Paxos – Antipaxos – Blue Caves (Departure from Corfu)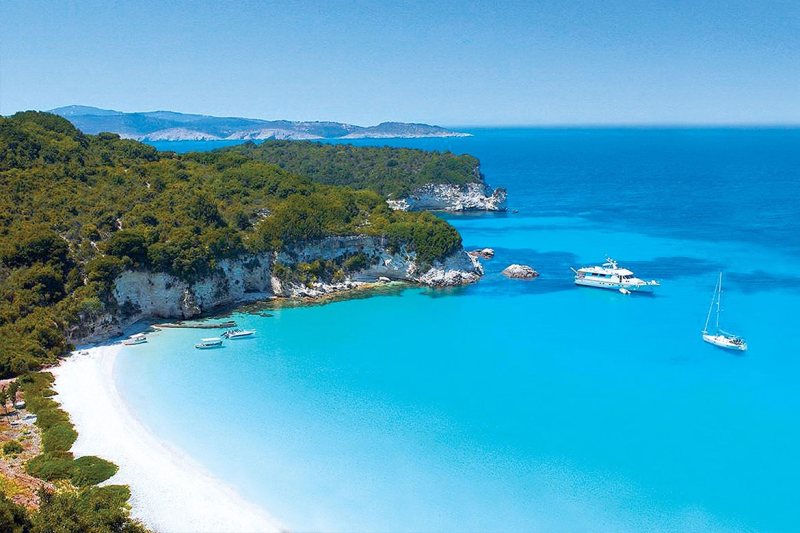 Adults: from 40,00€ 13+
Children: from 25,00€ 4-12
Infants: from 0,00€ 0-3
Sail to paradise!
Experience the ultimate adventure of exploring two of the breathtaking islands of the Ionian Sea, nestled in the southern part of Corfu, in just one day. The alluring island of Paxos, renowned for its exquisite Blue Caves, and the idyllic island of Antipaxos, flaunting its powdery beaches and pristine waters, are waiting for you to discover their captivating beauty.
As you sail along the magnificent coastal region of Corfu, a verdant island emerges in front of your eyes, revealing the majestic canal that connects Corfu to Paxos. Behold the stunning spectacle of the imposing Paxos caves, crafted naturally by the powerful waves and winds, leaving you in awe of their beauty. Marvel at the continuous change in the water's color, ranging from a tranquil light blue to a deep emerald.
Your next destination is the charming island of Antipaxos, which lacks a designated port. Therefore, the ship approaches the coast as closely as possible, providing you with the opportunity to bask in the scenic views of the picturesque beaches. If you can't resist the temptation, immerse yourself in the crystal-clear waters and indulge in a refreshing swim.
After bidding farewell to the bewitching island of Antipaxos, you'll sail across the natural canal, resembling a small fjord, and reach the port of Gaios, the capital of Paxos. Explore the narrow streets, savor the delicious local cuisine at a traditional restaurant, or unwind with a cup of coffee at a charming café, while gazing out at the stunning islet of Ag. Nikolaos and the striking coast of mainland Greece. All this while the never-ending course of the canal continues to mesmerize you with its beauty.
Select the number of travellers and click a date to browse tours and availability